Web Sites > Audiovox/Quintex Online
While working at Internet Developers Corporation, I designed and built the front-end of the Audiovox Warranty site.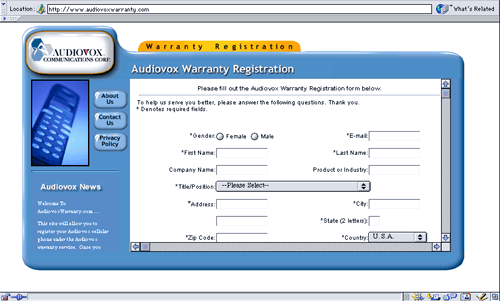 Particularly challenging was creating the glassy appearance of AudioVox logo module, the blue palette's plastic appearance and the subtle glow effect of the three navigation buttons when moused-over.
There is also client-side form validation that brings up a dynamically sized window listing all the required fields that have errors.
This was a temporary, single purpose, warranty site only, to serve as the template for a much larger and multifunctional retail site.
The next version required the use of the Quintex logo, a change in the colour of the web site to green, an increase in its height, and the addition of new top and bottom navigation items.