Web Sites > Connectrix
At the time this version of their website was built, Connectrix provided IT Outsourcing Professional services, and Office and Home Automation services.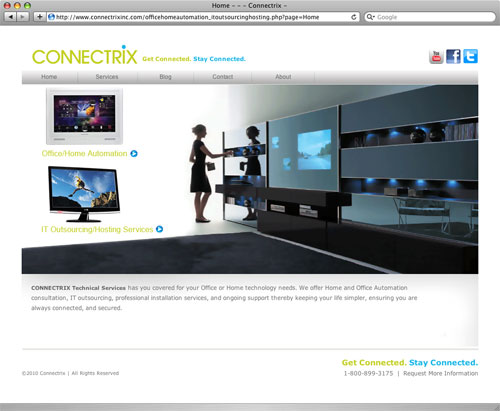 The challenge was to enable the visitor to efficiently navigate the web site to learn about the many services Connectrix offers.
I programmed the front-end and the
administartion applications
. Isabel Neves of IntheQ.org created the very elegant web site design.
The top navigation is minimal, and it is the left column's dynamically created tree menu that provides access to most of the web site's information.
Except for the two main area "Landing" pages, the title, text and image content of all pages is kept in "inner page" files which are easy to edit. The content of each page is then imported into and dynamically rendered by a common template page.
In the Contact page, the visitor can select the "Contact Me by Email" form, or the "Contact Me by Phone" form. Each has different required and optional fields. Any data entered is maintained when toggling between forms, and when returning to the Contact page after visiting any number of other pages.
Both forms use the
MyCaptcha Challenge-Response Test
that I programmed.
I created the calendar used in the "Contact Me by Phone" form. This gives me greater control to implement any modifications Connectrix might request.