Web Sites Applications > Connectrix Admin Area
At the time this version of their website was built, Connectrix provided IT Outsourcing Professional services, and Office and Home Automation services.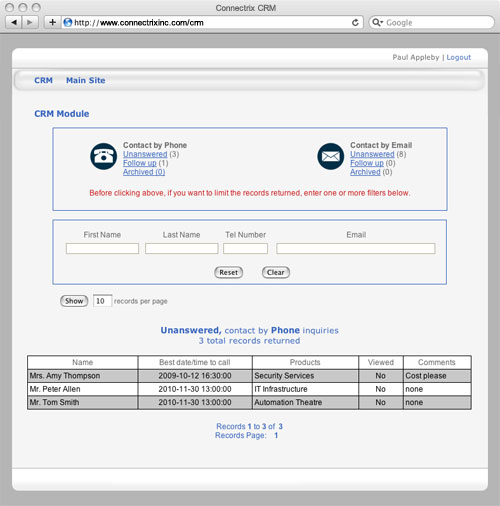 When a visitor submits the appropriate form requesting Connectrix contact them by email or by phone, an email is sent to the Administrator, and the contact information is inserted into a database table.
This database table can be accessed by the sales team using a simple but scalable Customer Relationship Management (CRM) web tool.
After logging in, the sales person can choose to view all records where customers requests have not yet been answered, or those that have been followed-up or those that have been archived, whether the customer wants to be contacted by phone or by email. The records to be viewed can also be limited by any or all of a first name, last name, phone number and email address.
Clicking on a record opens the CRM Module's Answer Inquiry window. Here the sales person can see the original information submitted by the customer, and details of any follow up emails sent or phone calls made to date.
In the lower section of this window the sales person can select the action taken - whether the customer was contacted by phone or email, or if the record will be archived. And any comments can be added.