Web Sites >Equality Rights Central
As descibed on their web site, Equality Rights Central is a place to find cases, commentary, trends, news and facta about equality and discrimination issues, in law and policy.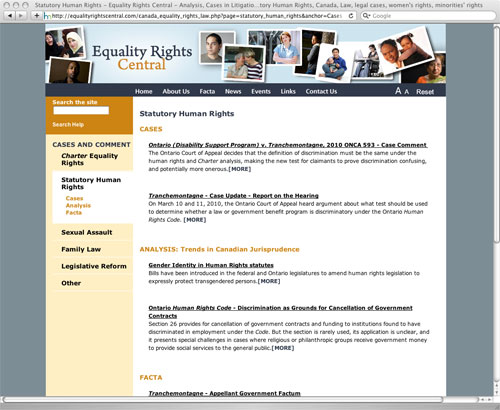 The site is for advocates, academics and practitioners involved in equality rights, to monitor and advance the development of equality law in Canada.
I programmed the front end, as well as the
Administration area
, for Ursula Gallagher of Litmus Design.
The main challenge was to dynamically enable visitors to view case analyses of selected topics and subtopics, and their related resources, while giving the
administrator
control over content of the analyses and the left tree menu.
After clicking on a topic or subtopic in the left tree nav menu, visitors see the briefs of various case analyses (ERC papers), and can then click to view the entire ERC paper. Within each ERC paper are links that display related resources in popup windows. Visitors can quickly find what they need, whether related to a case, an event, a news item, or anything else, by using mySpider, the site search tool I created.
Visitors can view events, for all provinces or for a selected province, by using the calendar and clicking on a date, or by using the calendar-specific search tool.
When viewing the calendar, a pencil icon appears in the boxes of dates containing scheduled events. Clicking in a box showing the pencil icon, displays collapsed information of all events for that date, below the calendar. Clicking on an event expands the information. This calendar design and programming ensures all date boxes always remain the same size, rather than having date boxes of different sizes containing different amounts of information.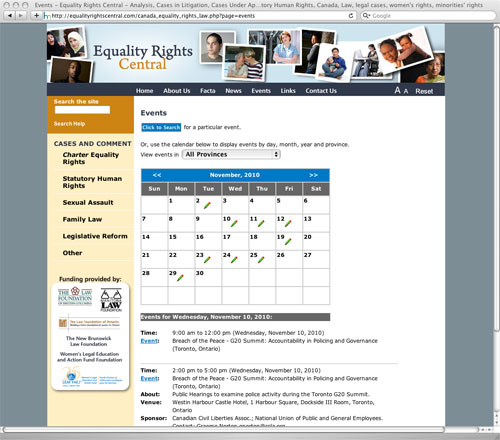 Click here to view the web applications in the Administration area.
Call me to arrange a web conference. Then click here to see the admin features in action.
Click here to view the site on my dev server. The production site has been removed.