Web Applications > Equality Rights Central Administration Area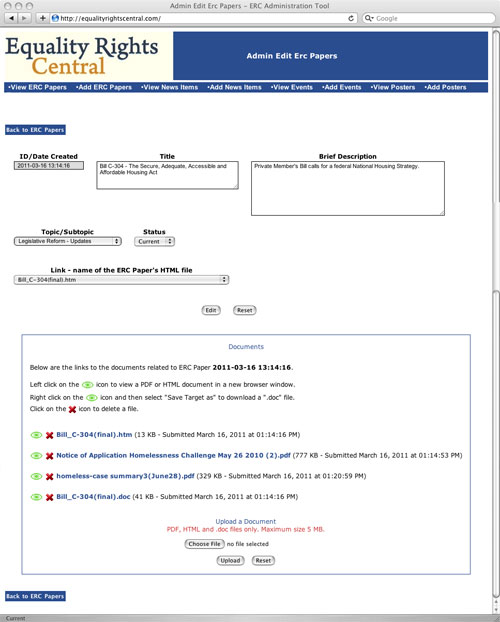 The Administration Area is web based and allows the site Administrator to:
Create, activate, deactivate, and delete

topics

and their

subtopics

, control the order in which they are listed, and change their names.

Add or remove

case analyses

(ERC papers), assign them to a topic and subtopic, and create their titles and brief descriptions that are displayed when a topic is opened. When the admin uploads the ERC paper that he or she has created in Word and converted to HTML, the PHP application removes all the Microsoft styles. The application also automatically creates the links to resources quoted in the ERC paper after determining if the link is to an external or internal resource.

Add and delete

news items

and links to their internal or external resource; create brief descriptions of each news item, and control how many news items are displayed in the Home page news scroller, and their maximum age for being displayed.

Add, edit and delete

events

. So can

outside "event posters"

- approved individuals who can create and control their own event posts. Additional occurrences of an event, with differing event details, can be easily added and edited.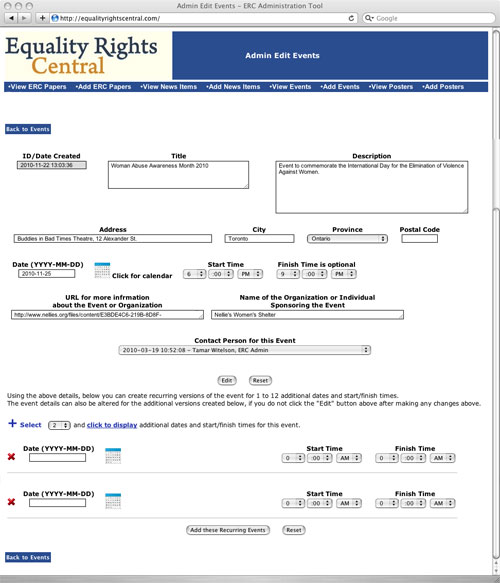 Click here to return to the features of the Equality Rights Central main site.
The Administration area is private. But you can contact me for an online demonstration.