Web Sites > Gottardo Construction
Gottardo has been a leader in the Ontario construction industry for more than fifty years, specializing in general contracting and design-build.
Visitors to the web site are praising Gottardo for the site's elegance and ease of use.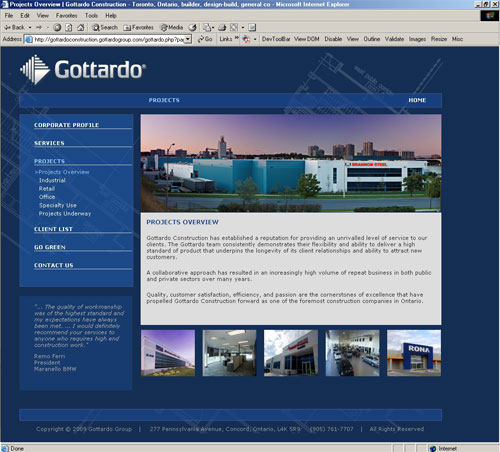 I developed the web site with the assistance of Isabel Neves, designer, at InTheQ. Besides managing the project, I did all the front-end and back-end programming.
Visitors see a different client testimonial on different web pages. The Admin can add/edit a testimonial and stipulate which page it appears on.
Using the custom built tree navigation menu, visitors can easily find what they need. The Admin can edit the contents of the tree menu by altering a single, easy to use PHP file. Note too, that the tree menu maintains its transparency even as it is expanded.
The Partial Client List page is dynamically built using a database table. Although the table may contain several jobs for the same client, the displayed list contains no duplicates and is alphabetically organized in two columns.