Web Applications > Gottardo Construction Admin Area
The Administration Area is web based and gives the site Administrator control over how the client projects are displayed.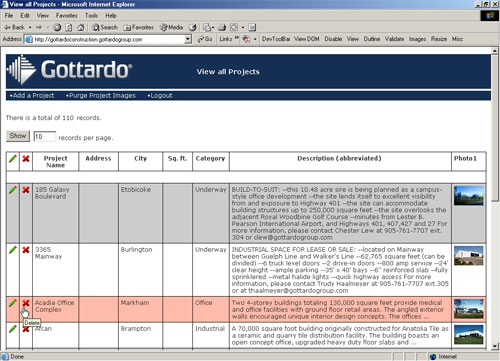 Three admin web applications allow the Administrator to view a brief summary of all records, edit and delete existing records, and add new records, A fourth is for purging any images that are no longer being referenced by the database.
When editing an existing record or adding a new one, the Administrator can upload multiple images, and preview them all before uploading them to the server. Over each image, a maximum-size red guide outline is displayed. A work around was coded to preview the images, because for security reasons, web browsers don't allow previews to be displayed when using a browser to do file uploads.
By altering a single, easy to use PHP file, the Administrator can add or edit a testimonial and stipulate which page it appears on.
Using a different PHP file, the Administrator can easily edit the contents of the tree menu.
While I was training the Gottardo's web site Administrator, together we created an Administrator's User Manual.The Manual contains hosting, domain registration, FTP, database access and login information. It explains how to use the administration area's web pages, how to replaces photos and edit text, create new pages, and edit testimonials. It explains good file replacement and file saving practices, and much more.