Web Sites > Green Card Immigration U.S.A.
Green Card Immigration U.S.A. is a web based filing service that offers employees and their American sponsors an easy, efficient way to file for Permanent Residence (the Green Card) in the United States.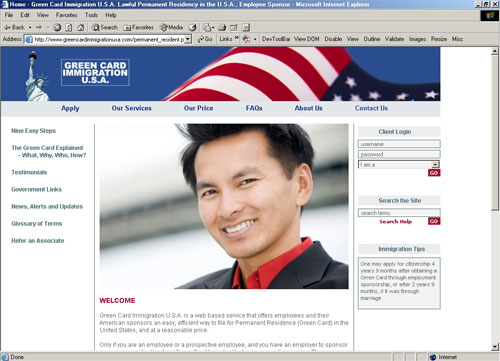 Using the web site, clients can access all the information they need. This means more convenience, and less telephone inquiries, for both the clients and the company's staff.
I programmed and designed the web site, as well as the Administration area's
web applications
.
For every application the Sponsor-Employers submit online, on behalf of their various employee-beneficiaries, they can use the web site to:
view updates on the status of the application view all documents filed in regards to the application request changes to the data of the application make all payments view the payment history of the application
The Beneficiary-employees, who are the recipients of the Green Card, can also do all of the above, except in regards to payments.
The web site also features:
A live News page that dynamically displays selected and re-styled text, and links, downloaded from two government web sites. Legal terms, when moused-over, display their definition, and link to the Glossary of Terms page. A convenient "My Applications" link the Sponsors can click for a popup list of the applications they submitted. The application numbers, Beneficiaries' names and the respective sponsoring company names are displayed. MyCaptcha, my own Captcha scheme, used in the "Refer an Associate" page email form, to determine whether the user is human.