Web Sites - Mobile > ITBuzz
As their blog web site states "IT Buzz was created to bring together the 'techy geeks' and business minded technology lovers, providing an open forum to share the news, knowledge, advice and expertise of the IT industry in one location."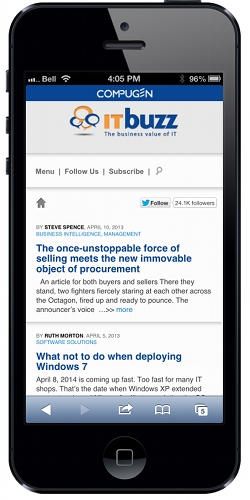 Click here to view the site.
The mobile version of the site was designed by Terry Montag of
Quartremaine Design
for
Compugen Inc.
, one of Canada's largest IT services providers and systems integrators.
Click here
to view the features of the desktop version, designed by Terry.
We used our custom Wordpress theme for the desktop version of the web site. And applied our own responsive design to build the mobile version, rather than use a plugin.
In the mobile version we made certain design changes and eliminated certain features and elements that the desktop version has.
On the Home page, no images appear with the blog text excerpts. However, the blog images are displayed when the visitor views the individual articles.
The Menu, Follow Us, Subscribe and Search features all expand and collapse.
The main ad was moved from the baneer at the top, to below the main content, and a smaller version dynamically resizes. Below the banner ad are some of the contents that were in the sidebar - the latest tweets, the smaller ads, and a link to "Advertise with Us". But the tag cloud and 6 most prolific authors have been removed.
Images on single blog pages dynamically resize. For example, when switching from portrait to landscape.