Web Sites > KmX
KmX utilizes membrane technology to recycle used solvents and wastewater into reusable products of the highest possible purities.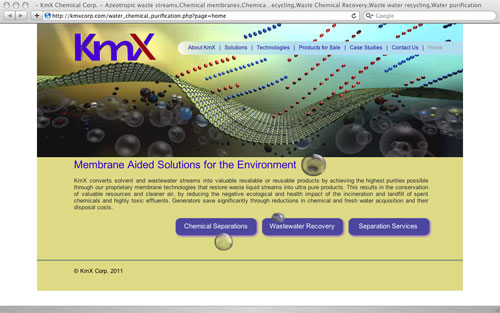 To visually convey this, we used an animated banner, created by Peter Softly, on the Home page, and a still version of the animation on all the inner pages.
To ensure fast streaming of the animation banner, the Flash Video file plays in a SWF FLV player I created that has no controls. Using this FLV player eliminates the need to embed an FLV in an SWF file each time you want to display a different video.
I wrote a Javascript class, to create the bubbles that fly out of the animation and onto the page below.
If the viewer's browser has Flash disabled, the animation's final frame is displayed. An MP4 video is displayed on the iPhone and iPad.
The client wanted to graphically illustrate some of the text's technical details. But to keep from cluttering the web pages, we decided to display the graphics in a small format, in a column to the right of the text, and allow the visitor to magnify the graphics for increased clarity, when required.
The magnified graphics are all contained in draggable windows.
The client can easily alter the contents of a PHP script to change the left navigation tree menu of each top navigation area.
Similarly, the client can easily change the text and field names in any of the four Request for Quote forms.
The visitor's browser must be set to accept cookies in order for these forms to display any data that has been entered, when the visitor leaves and returns to a form page. If cookies are disabled, a warning is displayed at the top of the page.
I managed the project for my client KmX, and programmed all the code and functionality. Isabel Neves, of intheq.org, designed the details and the charts.