Web Sites > mySpider
The web application mySpider is a site-specific search tool which I created and programmed in Perl, and you can test it's search function on this web site.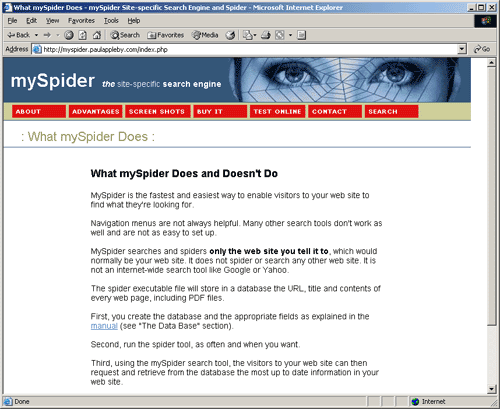 It has also been used on many other web sites. For example, the municipality of Chatham-Kent and the City of Pickering had for some time implemented it on their sites, but no longer do. I designed and built the mySpider web site as a showcase and selling tool for mySpider.
This web application/search tool offers many advantages to the web site's owner, visitors, and web master or web developer. For the complete details, visit the
mySpider web site.
The logo image of the eyes behind the web is my concept, photography and art work.
The site uses my own Javascript multi-level menus.
The Order page, under the Buy It menu, utilizes Javascript that I wrote for calculating the total dollar value of the order. The GST is optional but is initially included only if the country entered is Canada.
Other Javascript code gives the detailed information on how to pay depending on the type of payment method chosen.
A third Javascript code block makes the fine legal print more readable. The visitor can adjust the font size of the Conditions of Purchase to their liking.
Back-end programming includes email notifications of submitted forms, and a database of the submitted information for use in, among other things, administrating tech support.