Web Applications > OAB Amber Alert Administration Area
The Ontario AMBER ALERT is the warning system that quickly alerts the public of abducted children who are in imminent danger.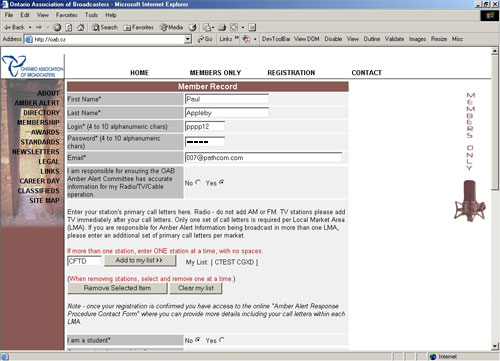 At the time I was engaged by the Ontario Association of Broadcasters (OAB), they participated by administrating a database of its member stations and their Amber Alert contacts.
Once broadcasters received the Amber Alert, radio and television stations interrupt regularly scheduled programming to notify the public that a child has been kidnapped.
Working with Craig Mills, the client co-ordinator of MediaNet Communications, now DayBreak Communications, I programmed a major upgrade to the system.
In Craig's words, the upgrade made the site "much more secure, powerful and easy to operate for the OAB and Amber Alert Administration and helped to improve communication with the stations and accuracy of the information."
The web forms used by members when first registering or when editing their own records, contained input fields that dynamically changed depending on if the individual was a broadcaster, a student, or a broadcaster responsible for Amber Alert.
Every 30 days, OAB members responsible for the Amber Alert records of their stations, received an email with their station record to proof. If the person did not respond, the OAB Administrator could follow-up to ensure there hadn't been a staff change or other communication breakdown.
When viewing OAB Member Records and the Amber Alert Station Records, the Administrator could see when a record was last viewed or updated. In addition, an email notice went directly to the OAB Administrator with news of any updates.
Using one web application, the Administrator could generate one of two Amber Alert data reports in PDF format, store them on the server, zip them, and email them to specific members of the OAB Amber Alert Executive.
Using another web application, the Administrator could automatically generate email lists for communicating to all OAB members, or to just the Amber Alert key contacts or student-members.
And of course, the Admin could view and edit all station and member records.